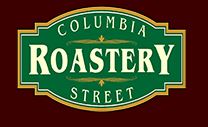 Columbia Street Roastery is a local company that sells coffee & tea. At Columbia Street Roastery, they consider coffee and what they do with it to be more than just a job – it is about creating a product that they are proud of, as well as one that those who both grew and processed the coffee would be pleased and proud of.
Columbia Street Roastery is proud to be a self-contained coffee operation.  Any product which bears the Columbia Street Roastery name is roasted and packaged at their local plant on Columbia Street in half, one, two or five pound bags and even fractional packs ready for brewing.
Products
Coffee & Tea
Fun Facts
CSR directly imports teas from China, India and Sri Lanka for CSR's line of traditional, decaffeinated and flavored iced teas.
CSR roasts 19 different varietals from 16 different countries.  These coffees can be purchased as single varietals or blended to supply restaurants and coffee houses throughout a 100-mile radius of Champaign-Urbana via a delivery route system.
The Herriott family has had a business in Champaign-Urbana, IL since 1951. Herriott Cities Service gas station was the initial business started by their father, Merle.
They have regular tours of the facilities on alternate Saturdays. Tours include the bean room, the Roastery, the tasting room and the warehouse.