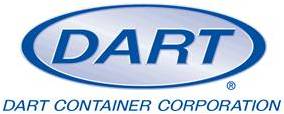 The Dart story begins with a small machine shop in Michigan known as Dart Manufacturing Company. Established in 1937, this modest business prospered through the manufacture of such products as plastic key cases, steel tape measures, and identification tags for the armed services. Subsequent experimentation with expandable polystyrene in the late 1950s led to a line of high quality insulated foam cups, and Dart Container Corporation was born. On May 4, 2012 Solo Cup Company was acquired by Dart Container Corporation.
Products
Foam cups, containers and lids; Plastic cups and lids, Fusion cups, Plastic cutlery, Bowls, Portion containers and lids, and more.
Fun Facts (Solo History)
1950s – Solo introduces 2-piece wax-lined cold cups for serving cold drinks at drive-in theaters throughout the country.
1970s – Solo introduces its signature red plastic cup.
2004 – Solo works with Starbucks and its suppliers to develop the first-ever FDA approved paper hot cups made with 10% post-consumer recycled fiber.
2010 – Solo Cup Company partners with the Chicago Cubs to introduce the "Real Fans Recycle" program at Wrigley Field. Fans can now recycle all of their plastic cups in specially marked bins throughout the park. In its first season, the Chicago Cubs and its fans divert approximately 165,000 pounds of cardboard and plastic material out of the waste stream and back into the market in a recycled form.
2011 – Solo celebrated its 75th anniversary in 2011. Started on the south side of Chicago during the Great Depression, Solo is now a $1.6 billion global company with facilities in Europe and The Americas.