BRG Sports Featured on Cover of Central IL Business Magazine
BRG Sports, a 2015 Innovation Celebration award recipient located in Rantoul, is featured on the latest edition of Central Illinois Business Magazine. The article covers their products (including a Hello Kitty bike helmet!), 800,000+ SF manufacturing and distribution facility, and company culture.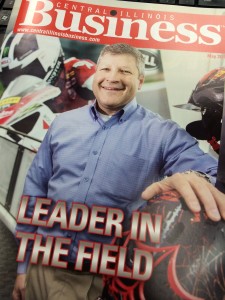 On the cover is Lewis Hornsby, Vice President Global Logistics/Fulfillment and General Manager of Rantoul Operations.
Also featured in the issue is Volition on page 5, a 2014 Innovation Celebration award recipient located in Champaign, and Scientific Animations Without Borders on page 9, a 2015 Innovation Celebration award recipient located at the University of Illinois at Urbana-Champaign.
Pick up a copy on newsstands now or read more online at centralillinoisbusiness.com.
About BRG Sports, Inc.:
BRG Sports is a leading designer, developer and marketer of branded sports equipment, protective products and related accessories. The company markets and licenses products under well-known brands such as Bell, Riddell, Giro, Blackburn, Raskullz, Krash! and BULT. Their products incorporate leading technology and designs, and are used by professional athletes and sports enthusiasts alike. They are headquartered in Scotts Valley, California and have 27 facilities worldwide including their North American distribution hub in Rantoul, Illinois.