Incumbent Worker Training
Incumbent Worker Training (IWT) – Champaign County Regional Planning Commission
The Champaign County Regional Planning Commission's Incumbent Worker Training (IWT) program may be just what you need to help train your existing employees, increase productivity, and boost your company's competitiveness.
IWT provides hands-on training, payment to offset training costs, the opportunity to train employees your own way, and an investment in your business.
Benefits to Your Business
Addresses skills gaps in your existing workforce
Helps you boost productivity and/or avert layoffs
How Incumbent Worker Training Works
To be eligible for an IWT training grant, your company must need to train existing workers in order to avert potential layoffs or increase your workers' skill level. If eligible, your company can be reimbursed for the cost of skills training.
Specific details include:
Workers receiving training must have an established full-time employment history of at least six months at your company
If a company has recently relocated and any employee lost their job, IWT services cannot be provided for 120 days following the relocation
An IWT grant cannot cover "soft skills" training or general worker orientation
Eligible Employers
Healthcare
Manufacturing
Business Services (including IT, accounting, office administration, etc.)
Construction
Transportation Distribution and Logistics
AgTech
Green-jobs training will also be allowable across all industries
The employer (or group of employers) to benefit from the training must be from one of the key sectors cited above or the employer may be from any industry if the proposal is part of an incentive package designed to encourage the employer to create or retain jobs in the local area. Or the training must be "green" training.
How to Qualify
Once the employer is identified in a key sector, the next step is to determine if it meets any layoff aversion "at-risk indicators". Key indicators include: layoff aversion, declining sales, supply chain issues, adverse industry market trends, and changes in management/philosophy/ownership.
Matching Requirement
Employers participating in the program are required to pay a non-federal share of the costs of providing the incumbent worker training. The non-federal share paid by an employer or group of employers may include the amount of the wages paid by the employer(s) to a worker while the worker is attending a training program and may include in-kind contributions. All matching contributions must be necessary for the provision of the training, fairly evaluated, and verifiable. The match requirement is as follows:
1.) 10% of the cost, for employers with not more than 50 employees;
2.) 25% of the cost, for employers with more than 50 employees, but not more than 100 employees; or
3.) 50% of the cost, for employers with more than 100 employees.
Costs
Subject to the approval of Local Workforce Development Board (LWDB) 17, all reasonable and necessary costs related to the conduct of the training are allowable. There is no reimbursement until the training program is successfully completed. Additionally, as limited by state policy, the costs of workers' wages paid while in training are allowable only as employer match contributions.
The following are typical costs eligible for reimbursement for the WIOA grant:
Tuition and school fees
Books
Training materials and supplies
Pre- and post-testing
Vocational counseling
Vendor/contractor trainer costs
Travel expenses of trainers
Travel expenses of trainees
Training facility costs (training off-site)
Fees for technical or professional certifications
Refresher courses for occupational certifications
Quick Links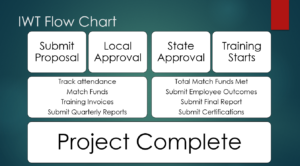 Contact
Have questions? Are you ready to start your IWT application? Contact Carly McCrory-McKay at carly@champaigncountyedc.org or 217-649-2586.
---
FAQs
What is an Incumbent Worker?
Workers, either individually or as a group, must meet the following definition to be considered incumbent workers.
An incumbent worker is:
a) An individual who has a full-time employment relationship with either a participating employer in a key sector industry, or an employer being provided incumbent worker training as part of an economic development incentive package; and
b) Receiving upgrade training:
To increase his or her skills in an occupation in which the individual is already an incumbent; or
To prepare the worker for entry into a new occupation within the targeted workforce.
A group of employers, as cited above, may be locally defined and must be industry focused. For example, a group of employers may be associated due to supply relationships such as an original equipment manufacturer (OEM) and the firms in the OEM's supply chain. Or a group of employers may be associated through an industry related organization.
Who provides training?
Training is often provided by organizations such as Parkland College or IMEC. However, Champaign County Economic Development Corporation and/or Champaign County Regional Planning Commission can help you find appropriate training.
Parkland College training examples: customized training, traditional classes.
IMEC training examples: strategy, customer engagement, operations, technology.
What should I keep in mind as I'm considering this program?
The Local Workforce Development Board determines an employer's eligibility based on the following factors which help to evaluate whether training would increase the completeness of the employees and/or employer:
Characteristics of the individuals in the program (barriers)
Does training improve the labor market competitiveness for employees and/or employer
# of employees in training
Wage and benefit levels of employees (pre and post training)
Existence of other training and advancements provided by employer
Credentials and skill gains as a result of training
Layoffs averted as a result of training
If you are seeking funding, be specific about any issues that require financial resources for resolution
A wide range of training topics and delivery arrangements may be proposed. Training that is closely linked to specific jobs, as well as job advancement, is encouraged. Proposed training that is only loosely related, or unrelated, to specific jobs, while not completely prohibited, is discouraged. Examples of training that is not directly job-linked include stand-alone adult basic education (ABE), stand-alone English as a Second Language (ESL), team building training, motivational training, and basic computer literacy skills. Please note that ABE and ESL training that is fully integrated with specific job linked skill training is allowable.
What reporting will be required?
Organizations receiving incumbent worker training grants must comply with all state planning and reporting requirements as specified in state policy. Requirements include the submission of an initial project plan. Required reports include information about employers and workers participating in the program as well as quarterly narrative reports on project implementation.
---
Examples of Past IWT Projects
| | |
| --- | --- |
| Industry | Type of Training |
| Manufacturing | ISO13485 & MD-SAP |
| Manufacturing | Welding |
| Manufacturing | AS9100D |
| Construction | BPI Certification (Building Performance Institute) |
| Manufacturing | ISO 9001 |
| Manufacturing | ISO 9001 |
| Manufacturing | ISO 9001 |
| Manufacturing | CNC Machine Operating |
| Manufacturing | Workplace Organization 5S Training |
| Manufacturing | Industrial Maintenance |