Founded in 1991, Taylor Studios, Inc. began as a mail-order business creating museum-quality artifacts, fossil reproductions, and exhibits for museums and other clients. Quickly recognized for the passion and expertise brought to each project, the company initially carved out a niche in the paleontology, archaeology, and natural history fields. Today, Taylor Studios is recognized as an industry leader in exhibit planning, design, fabrication, and installation, serving a diversity of clients throughout the country and internationally. Their 3D storytelling now reaches beyond natural history to cultural history, history walls, and immersive environments of all kinds.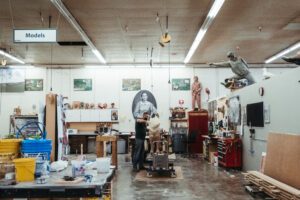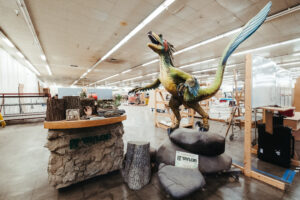 Learn more at https://taylorstudios.com/.
---
Fun facts about the company:
They have completed over 700 projects around the world.
Their company first fabricated out of a garage and an old chicken coop, but they now have 65,000 square feet of fabrication space (as big as the White House).
It takes 80 hours to sculpt a bird model.
The heaviest exhibit element they've created is a 3.5 ton woolly mammoth for the Horicon Marsh Education and Visitor Center.
They eat about 520 tacos every year thanks to Taco Tuesday at a local restaurant.