CEB Data Innovation Center Opens at UI Research Park
From the press release:
CEB TAPS TOP TECH MINDS TO ADVANCE TALENT ANALYTICS LEADERSHIP
Employees at new Data Innovation Center at Research Park at the University of Illinois to Focus on Emerging Technologies' Applications for Talent-Focused Organizations
ARLINGTON, Va., March 16, 2016—CEB (NYSE:CEB), a best practice insight and technology company, today announced the grand opening of its newest office at Research Park at the University of Illinois. The facility, a data analytics innovation center, will be home to nearly a dozen undergraduate and graduate students working on emerging technologies—including natural language processing, machine learning and data visualization—to enhance CEB's leadership position in talent strategy and analytics.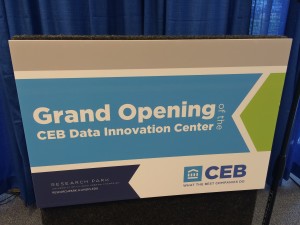 "Our own best practice insights confirm that having the right talent in place is pivotal to achieving business objectives and driving growth," said Melody Jones, chief administrative officer, CEB. "We're establishing our Data Innovation Center at Research Park because students here have the skills and drive to expand our market-leading talent analytics portfolio and ultimately help the world's best companies bring new levels of precision to their talent investments."
"It's exciting to see a corporation like CEB, which is in the business of recognizing and fostering talent, come to Illinois to tap into the culture of innovation at the Research Park," said University of Illinois at Urbana-Champaign chancellor Barbara Wilson. "Research partnerships are critical to groundbreaking discoveries that benefit all involved, especially in accelerating the new frontiers of data science."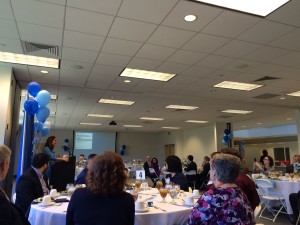 CEB's analytics offerings, including CEB TalentNeuron, its workforce surveys and Sunstone analytics, are quickly being adopted by leading global organizations to inform everything from location planning to individual candidate selection. With more than 35 billion data points under management, the company is equipping senior executives around the world with the intelligence they need to make critical talent decisions quickly.
"Analytics are key to giving our customers an unmatched level of visibility into the labor market," Jones added. "This Center will augment our own team's advanced analytics work designed to fulfill that promise. Given our mission to advance the science and practice of management, we couldn't be more pleased to bring to these innovations to market in collaboration with an institution as respected for developing tech talent as the University of Illinois."
To learn more about CEB's leadership in talent analytics, please visit our website.
About CEB
CEB is a best practice insight and technology company. In partnership with leading organizations around the globe, we develop innovative solutions to drive corporate performance. CEB equips leaders at more than 10,000 companies with the intelligence to effectively manage talent, customers, and operations. CEB is a trusted partner to nearly 90% of the Fortune 500 and FTSE 100, and more than 70% of the Dow Jones Asian Titans. More at cebglobal.com.
Press:
Research Park welcome 101st business, The Daily Illini