Champaign-Urbana Reminds World of Innovation History with "You're Welcome" Campaign
Effort highlights history of innovation, culture, quality of life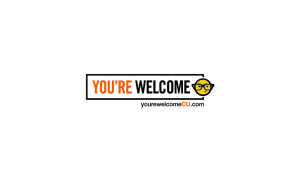 Champaign, IL (September 23, 2015) – From the plasma TV to the Web browser to LED technology and oh-so-delicious whipped cream in a can, Champaign-Urbana has a rich legacy of innovation that is virtually unmatched. Yet, few people outside of the 217 area code realize that this Menlo Park of the Midwest was responsible for a remarkable number of innovations and companies that have changed the world.
Enter "You're Welcome", a national marketing campaign that seeks to infuse Champaign-Urbana with community pride while letting everyone else in on the little secret we already know: while C-U is a hub of smarts with a legacy of innovation, it's also a great place to live, work, and dream up new ideas. "We know C-U is a fantastic place, now it is time to tell the world," said Craig Rost, director of the Champaign County Economic Development Corporation. "It is awesome how this project has pulled the community together to tell our story."
"Champaign-Urbana is one of the most talent-dense, well educated, and diverse regions in the U.S.," said Laura Frerichs, director of the Research Park at the University of Illinois, which is home to software engineering hubs for companies like Yahoo, Anheuser-Busch, John Deere, Caterpillar, Dow Chemical, Raytheon and the award-winning EnterpriseWorks startup incubator. "The university's top ranked engineering, informatics and computer science programs have created a robust pipeline of innovators with technical skills to fuel an unusually large technology community that is balanced by an outstanding quality of life."
The You're Welcome website is an information-rich portal of community information that includes a community job board; C-U brag points and community rankings; local videos and photo galleries; downloads of information and materials; and links to organizations and resources. It will be an asset for local businesses and organizations looking to recruit skilled talent to the area.
You're Welcome is a true community collaboration that crosses city and town-gown boundaries. Led by the Champaign County Economic Development Corporation and the University of Illinois Research Park, sponsors also include City of Champaign; Wolfram; Yahoo!; Busey; Amdocs; EpiWorks, Inc.; Benefit Planning Consultants, Inc.; Pixo; East Central Illinois Building & Construction Trades Council; Riverbed; Singleton Law Firm; Grainger, Inc.; Village of Savoy; Smith/Burgett Architects, Inc.; Taylor Studios; Champaign-Urbana Mass Transit District; Krannert Center for the Performing Arts; Barham Benefit Group; Polyvinyl Record Co.; and The Pygmalion Festival. Multiple community partners also participated in the ideation and implementation of the campaign.
For more information, please visit YoureWelcomeCU.com or find us on Facebook, Twitter, Instagram and YouTube. Sponsorships are still available.
Just a friendly tip from the friendly Midwest. You're Welcome.
###
Press: