#CTEinIL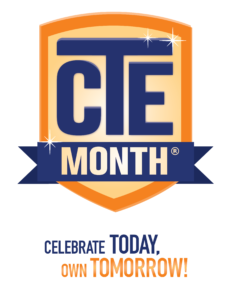 What is CTE?
Career and technical education, or CTE, is education that directly prepares students for high-wage, high-demand careers. CTE covers many different fields, including health care, information technology, advanced manufacturing, hospitality and management and many more.
CTE encompasses many different types of education, from classroom learning to certification programs to work-based learning opportunities outside the classroom.
Resources:
– CTE is Cool video: https://www.youtube.com/watch?v=TKKMEwepQeQ
– Infographic: https://www.acteonline.org/wp-content/uploads/2018/06/What_is_CTE_infographic_HiRes.pdf
– Additional resources: https://www.acteonline.org/why-cte/what-is-cte/basic-facts/
What is CTE Month?
Career and Technical Education Month®, or CTE Month®, is a public awareness campaign that takes place each February to celebrate the value of CTE and the achievements and accomplishments of CTE programs across the country.
Learn more at https://www.acteonline.org/why-cte/cte-awareness/cte-month/.
#CTEinIL
#CTEinIL is an online campaign to promote CTE programs and career opportunities in Champaign County and throughout the state of Illinois. Participating organizations, schools, and employers can use this hashtag throughout the month of February to build awareness about their own initiatives, while also helping to tell the story of CTE opportunities throughout the state.
Press Release: Community Partners Celebrating February as CTE Month®
#CTEinIL Partners
Champaign County Economic Development Corporation
http://champaigncountyedc.org/
Parkland College
https://www.parkland.edu/
Champaign County Chamber of Commerce
https://www.champaigncounty.org/
Champaign County Regional Planning Commission
https://ccrpc.org/
Champaign Unit 4 School District
https://www.champaignschools.org/
Champaign-Urbana Schools Foundation
http://cuschoolsfoundation.org/
Early College and Career Academy
https://www.parkland.edu/Main/Academics/Academic-Resources/Early-College-Services/Early-College-Career-Academy
Education for Employment System #330
http://www.efe330.org/
ICATT Apprenticeship Program
https://www.icattapprenticeships.com/
Illinois Manufacturers' Association
http://ima-net.org/
Mahomet-Seymour Community Unit School District #3
https://www.ms.k12.il.us/
Plumbers & Pipefitters Local 149
https://ualocal149.com/
Rantoul Township High School
http://www.rths193.org/
Urbana School District #116
http://usd116.org