Guth Named EDC Chair for Remainder of FY16
Jill Guth, of Guth & Associates, has been named EDC Board Chair for the remainder of EDC FY16, ending June 30, 2016. Guth replaces Ron Smith of the Illinois American Water Company who resigned his position last month for a new job opportunity in the St. Louis area.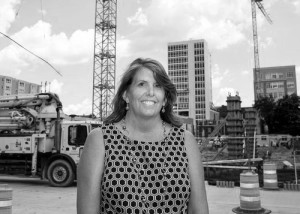 Guth has over 28 years of leadership and management experience in the economic development arena which cultivated a variety of relationships in numerous sectors. Prior to forming Guth & Associates, Jill served as the Director of Commercial Leasing & Marketing for JSM where she successfully negotiated leases with local, regional and national retailers and office users like Urban Outfitters, Panera Bread, CVS Health, University of Illinois, and many more.
"Fortunately for the EDC, Jill Guth has agreed to fill the remainder of Ron Smith's term as Chair of the EDC Board of Directors," said Craig Rost, EDC Executive Director. "Jill will be able to provide visionary leadership to me and the Board as EDC continues to elevate the profile of Champaign County and attract new talent and companies into our thriving economy and growing tech sector."
EDC Board Officers slated for FY17, starting July 1, are Dick Helton (Village of Savoy) as Chair, Diane Marlin (City of Urbana) as Vice Chair, Steve Tock (Hickory Point Bank) as Treasurer, and Mike Billimack (Carle) as Assistant Treasurer.
The EDC thanks Ron Smith for his years of dedication and service to the organization and welcomes Guth in her new role.
###
Press:
Guth temporarily takes chair spot of EDC board, The News-Gazette