IMA's Makers Madness – Vote for Champaign County Products
Voting is now open for this year's Makers Madness: The Coolest Thing Made In Illinois, presented by Comcast Business.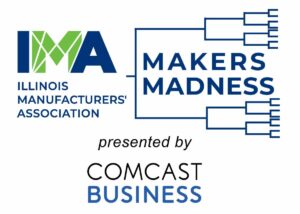 The competition by Illinois Manufacturers' Association is designed to highlight the many different products made in Illinois, including everything from food products and military flashlights to automobiles and components for the aerospace industry. This round of votes will determine the Top 16 products from the 311 unique products that were nominated from across the state.
Voting will take place at www.makersmadnessil.com through midnight on April 3. Voters can cast up to five votes per day in the first round as the field of products is narrowed.
Vote for products made in Champaign County:
9904-UDX-4K – Cobalt Digital
Automobile Bumpers – Flex-N-Gate
CAT Filters – Advanced Filtration Systems Inc. (AFSI)
CERV2 Smart Ventilation System – Build Equinox
Colorfil HVAC Filter – Serionix
Curtis Orchard Hard Cider – Blind Pig Brewing
Custom Blazed Diffraction Gratings – Inprentus
Custom Pipe Organs – John-Paul Buzard Pipe Organ Builders, LLC
Epitaxial Wafers – II-VI EpiWorks
Frasca Full Flight Simulators – Frasca International
Gill Vaulting Pole – Litania Sports Group
Graduation Cap & Gown – Herff Jones
Heinz Ketchup – Kraft Heinz Company
Kraft Mac & Cheese – Kraft Heinz Company
Miracle Whip – Kraft Heinz Company
Moisture-free Halides – APL Engineered Materials
Museum Exhibits – Taylor Studios
Plastic Closures – Silgan Closures
Porter 1835 Competition Portable Backstop – Litania Sports Group
Red Solo Cup – Dart Container Corporation
Riggs Illinois Koelsch – Riggs Beer Company
RUSK Hair Products – Beauty Quest Group
Seri Face Mask – Serionix
SHIELD COVID-19 Saliva Test – University of Illinois
SlimShield222 Lamp – Eden Park Illumination
Sun Bucket – Sun Buckets
Teflon Wafer Dippers – ShapeMaster, Inc.
TerraSentia – EarthSense
The Ability Hand – PSYONIC
TOMi Scope – PhotoniCare
Torq Tactical Flashlight – First-Light USA
VR Gowns – PolyCo
Wooly Mammoth (Museum Display) – Taylor Studios