International Trade Center Awarded Governor's Export Award
CHAMPAIGN, IL, May 30, 2018 – The International Trade Center of the Illinois Small Business Development Center at Champaign County EDC proudly accepted the Export Awareness and Development Award at the 2018 Governor's Export Awards, held at the Union League Club of Chicago on May 24th.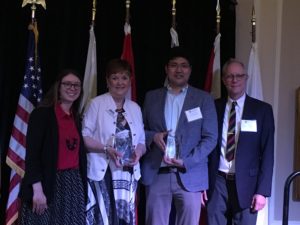 The Governor's Export Awards are Illinois' highest recognition of export achievement, honoring Illinois companies that have achieved excellence in exporting, as well as organizations that provide export assistance.
"We're honored to receive this recognition," said Craig Rost, Executive Director of the Champaign County EDC. "Our International Trade Center plays a critical role in growing our regional economy by helping companies export their products and identify areas for international trade opportunities."
The International Trade Center is dedicated to providing resources, advising, and training to existing and new-to-export manufacturing companies in Central and East Central Illinois. By developing and expanding their international trade, it helps make our Illinois economy stronger and more competitive, increases company profits through exports, and sustains and creates new jobs.
Since its inception in 2013, the International Trade Center has assisted 78 clients, held 20 export training workshops, seminars and events with 415 attendees, and increased export sales by $54 million. Additionally, 19 clients have benefited from the Illinois State Trade Export Promotion Program (ISTEP), receiving nearly $80,000 in foreign travel reimbursement.
"Kathie Cravens and the Illinois SBDC International Trade Center at the Champaign County EDC have provided remarkable support and guidance for area firms seeking to expand their export sales or to explore international trade as a way to expand their existing markets," said Mark Petrilli, Illinois SBDC State Director. "The experience, expertise and knowledge provided to these businesses has been invaluable and has dramatically increased exports in Illinois."
EP Purification, a Champaign company that manufactures innovative and environmentally sound systems for the purification of water and air, was awarded the New Exporter Award. Dr. Sung-Jin Park, co-founder and CTO, was in attendance to accept the award. The New Exporter Award highlights companies that have begun exporting products or services within the last three years.
Illinois' export industry helps create high paying jobs here at home and contributes millions to the state's economy. The State of Illinois is the number one exporting state in the Midwest and fifth in the United States. Last year alone, $65 billion worth of Illinois manufactured products were sold all around the world. Illinois' exporting growth outpaced the national average by nearly 31 percent.
About the Illinois Small Business Development Center at Champaign County EDC:
The Illinois Small Business Development Center at Champaign County EDC is part of America's Small Business Development Center Network, the most comprehensive small business assistance network in the United States, and provides information, confidential business guidance, training and other resources to startup and existing small businesses.
The Illinois Small Business Development Center at Champaign County EDC is funded through a cooperative agreement between the U.S. Small Business Administration, Illinois Department of Commerce, and the Champaign County Economic Development Corporation; with additional support provided by EDC of Decatur and Macon County and the Midwest Inland Port. Learn more at http://www.cusbdc.org/.
View photos here.