International Trade Center Honored as Presidential "E" Award Recipient for Export Achievements
International Trade Center Honored as Presidential "E" Award Recipient for Export Achievements
39 American Companies and Organizations Receive Highest U.S. Honor for Export Success
CHAMPAIGN, IL, October 26, 2020 – The Champaign County Economic Development Corporation is pleased to announce that its International Trade Center of the Illinois Small Business Development Center at Champaign County EDC has been selected as a recipient of the 2020 President's "E" Awards for Export Service, the highest recognition any U.S. entity can receive for making a significant contribution to the expansion of U.S exports.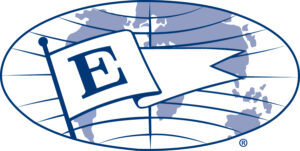 "The International Trade Center has demonstrated a sustained commitment to export expansion, said U.S. Secretary of Commerce Wilbur Ross in his congratulatory letter to the organization. "The "E" Awards Committee was impressed with your organization's achievement of increases to the export sales of clients working with the International Trade Center. The organization's client assistance in multiple languages was also particularly notable. The International Trade Center's achievements have undoubtedly contributed to national export expansion efforts that support the U.S. economy and create American jobs."
The International Trade Center (ITC) of the Illinois Small Business Development Center at Champaign County EDC, led by Mariel Huasanga, a Certified Global Business Professional and seasoned exporter, provides assistance with international trade and exporting.
"Mariel Huasanga and the Illinois SBDC International Trade Center provide exceptional service and support to existing and new Illinois exporters," said Mark Petrilli, State Director of the Illinois SBDC Network. "Clients of the ITC benefit from Mariel's tremendous expertise, deep experience and extensive knowledge of international markets and exporting regulations, in addition to her sincere passion to help them succeed."
The International Trade Center offers information, counseling and training to existing and new-to-export companies interested in pursuing international trade opportunities. Services include evaluation of company's readiness to export, access to foreign market information, documentation assistance, automated trade leads, linkages with trade representatives, and more.
"Our International Trade Center is one of only eight organizations in the country to receive the "E" Award for Export Service in 2020," said Don Elmore, Director of the Illinois Small Business Development Center at Champaign County EDC. "Mariel Huasanga's impact on our International Trade Center, and our organization as a whole, has been incredibly important since she joined us in 2018. She has helped numerous companies improve their international trade operations with her expert counseling and guidance, including helping them secure important resources such as STEP grants, which help companies increase their exports. Most recently, Mariel has helped two area businesses gain valuable recognition through the Illinois District Office of the U.S. Small Business Administration and America's SBDC."
In total, Secretary Ross honored 39 U.S. companies and organizations from across the country with the President's "E" Award for their role in strengthening the U.S. economy by sharing American ingenuity outside of our borders.
"Our organization is convinced of the importance of exporting as a critical driver of economic growth, especially for small businesses," said Mariel Huasanga, International Trade Center Director of the Illinois Small Business Development Center at Champaign County EDC. "We are honored and humbled to receive this recognition – and it inspires us to continue providing the best support and guidance to potential and current exporters in our region to successfully enter and compete in foreign markets. We are grateful to our clients who trusted us as a key partner in developing and implementing their export strategy; and to our local, state and federal partners."
American companies and organizations are nominated for "E" Awards through the U.S. and Foreign Commercial Service office network, located within the U.S. Department of Commerce's International Trade Administration. Record years of successive export growth and an applicant's demonstration of an innovative international marketing plan that led to the increase in American exports are significant factors in selecting the overall winners.
"I'd personally like to thank Don Elmore, our SBDC Director, and our host, the Champaign County Economic Development Corporation, led by Carly McCrory-McKay, for their strong and ongoing support for our center to continue expanding and improving to better serve our clients," Huasanga stated. "I also thank Elizabeth Ahern, Director of the U.S. Commercial Service office in Peoria, for supporting our nomination and for her valuable partnership."
About the "E" Awards
In 1961, President Kennedy signed an executive order reviving the World War II "E" symbol of excellence to honor and provide recognition to America's exporters. Criteria for the award is based on four years of successive export growth in one or more international markets.
For more information about the "E" Awards and the benefits of exporting, visit www.trade.gov.
###