Litania Sports Group is the parent company of two market-leading brands in the sports facility market, Gill Athletics and Porter Athletic.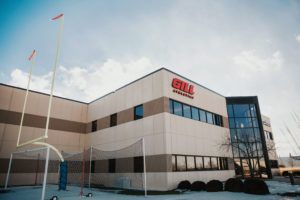 Gill Athletics, founded in 1918, is the official Track Equipment Corporate Partner of the NFHS and the Official Equipment Supplier of the NCAA Indoor and Outdoor Track & Field Championships. Gill equipment is used all over the world including all levels of competition from colleges to high schools to masters' competitions. Porter Athletic, founded in 1868, is recognized by coaches, architects, contractors and school administrators as the leader in the gymnasium equipment market. Porter equipment is featured in more award-winning athletic facility construction projects than any other brand.
Learn more at http://www.litaniasports.com/.
Fun facts about the company:
Gill Athletics founder, Harry Gill, helped organize the NCAA, and then won the very first NCAA championship as coach of the University of Illinois track & field team.
Porter Athletic was the originator of the first fan shaped basketball backboard and first glass basketball backboard.
Men's and Women's javelin world records were set with Gill manufactured implements.
Gill Athletics is the largest pole-vaulting pole manufacturer in the world.
Their equipment can be found inside The White House & Mark Wahlberg's home gym.