New Podcast Launches Promoting Community Pride in the Champaign-Urbana Area
FOR IMMEDIATE RELEASE                                                               
October 20, 2022
Media Contacts:
Terri Reifsteck: (217) 351-4133; terrir@visitchampaigncounty.org
Carly McCrory-McKay: (217) 649-2586; carly@champaigncountyedc.org
New Podcast Launches Promoting Community Pride in the Champaign-Urbana Area
Champaign, IL—Chambana Proud, a new podcast by Visit Champaign County and the Champaign County Economic Development Corporation, launched today with a goal of promoting pride in the greater Champaign-Urbana area.
Hosts Terri Reifsteck, Vice President of Marketing & Community Engagement for Visit Champaign County, and Carly McCrory-McKay, Executive Director of the Champaign County Economic Development Corporation plan to share what they see in their daily work, highlighting the people, places, and events that will make listeners proud to live in the Champaign-Urbana area.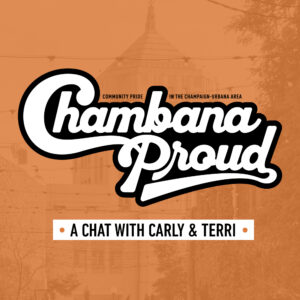 "Carly and I talk frequently as we collaborate on many initiatives in the community," explains Reifsteck. "We thought, why not get these conversations out to the public so they can learn about all the great happenings that we get to experience in our normal day-to-day."
"We have the opportunity to connect with many individuals and organizations in the community that are doing amazing work," says McCrory-McKay. "The podcast will be our way of sharing those connections and stories with our residents – and anyone interested in learning more about our area. We hope that it instills pride and gives everyone a better understanding of why the Champaign-Urbana area continues to be that state's fastest-growing community."
Listeners can expect to hear a different guest on each podcast, talking about local foods, arts & culture, sports, festivals and events, community services, and much more. "It will truly be taking the conversations we have in our daily work and bringing them to the people of this community," shares Reifsteck. "It will be an excellent way to stay up-to-date on what's upcoming, what's available, and the behind-the-scenes of how it all comes together."
The duo shares that the Chambana Proud podcast is one more tool in creating engaged residents in the Champaign-Urbana area. "For the past few years, we've been working on programs and resources to attract talent, engage with our employers, and welcome new residents," says McCrory-McKay. "The podcast will help in growing that engagement with all residents, and for anyone that wants to know more about our community." Among their most recent endeavors are the Chambana Welcome Crew, a community ambassador program helping newcomers settle into the area, and the New to CU Mixers, providing a space for residents new to the area since 2020 to connect with each other and get their questions answered.
Listeners can find Chambana Proud every other week on most podcast platforms and on www.chambanaproud.com. Local businesses interested in sponsoring an episode can contact Terri Reifsteck at terrir@visitchampaigncounty.org or Carly McCrory-McKay at carly@champaigncountyedc.org.