New Processing Facility Coming to Central Illinois for Organic and Non-GMO Sunflower and Soy Products
FOR IMMEDIATE RELEASE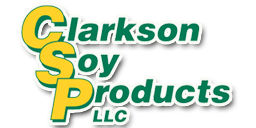 Media Contact:
Curtis Bennett
Vice President, Sales & Operations
Clarkson Soy Products, LLC
217-763-9511 – Ext. 124
Curtis.Bennett@clarksonsoy.com
www.clarksonsoy.com
CHAMPAIGN, IL, February 21, 2017 – A new state-of-the-art 30,000 sq ft processing facility for organic and non-GMO sunflower and soy lecithin is slated to open in August 2017 at Titan Warehouse in northeast Champaign.
This is the second Midwest facility owned and operated by Clarkson Soy Products, LLC. In 2004, the company became the first in the worldwide market to produce Certified Organic soy lecithin, an ingredient found in chocolate, ice cream, infant formula and numerous other edible products. Their current processing facility is located in Cherokee, Iowa.
The new processing plant in Champaign will be the first of its kind in North America and will employ four people. Clarkson Soy Products, LLC, plans to seek Organic, Kosher, and SQF Food Safety Certification for the facility.
According to Curtis Bennett, Vice President of Sales and Operations at Clarkson Soy, LLC, "The new facility will give our customers assurances of U.S. origin under the new FSMA (Food Safety Modernization Act) Regulations. We have evolved to become North America's leader in specialty lecithins."
The City of Champaign, Champaign County Economic Development Corporation, and Coldwell Banker Commercial Devonshire Realty assisted Clarkson Soy, LLC, in finding a suitable site. Clarkson Soy Products, LLC, will be working with The Atkins Group to complete the project.
Clarkson Soy Products, LLC, an employee-owned company located in Cerro Gordo, Illinois, was founded in 2002. The company processes, distributes, and exports high-quality Certified Organic and non-GMO lecithins for the food, personal care, nutritional, supplement, pet care, animal nutrition, and industrial markets.
###