Parkland College Submits Bid for $7.5M Manufacturing Training Academy
CHAMPAIGN, IL – Parkland College, in collaboration with the Champaign County Economic Development Corporation, the University of Illinois Research Park, regional manufacturers, and community partners, has submitted a bid to become the site of a $7.5 million manufacturing training academy through a grant from the Illinois Department of Commerce and Economic Opportunity (DCEO). Governor JB Pritzker announced the program in Champaign County in late October during a tour of local of manufacturers.
Focused on meeting the emerging training and workforce demands of Illinois manufacturers, the academy will leverage the assets of the Champaign-Urbana community to grow the manufacturing talent pipeline, provide hands-on training in advanced skills, and assist manufacturers from across the region in scaling emerging technologies. Training opportunities will include advanced skills in machining, robotics and programmable logic controllers (PLC), and advanced manufacturing in addition to the core elements of manufacturing already available, such as welding.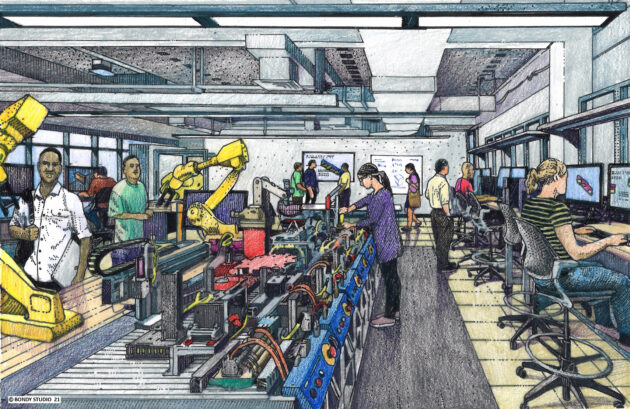 "Community colleges are vehicles and engines of economic growth and vitality for our communities and our state," said Parkland president Dr. Thomas Ramage. "Parkland is well-positioned to be the site of this strategic investment due to the track record of success in scaling regional training programs like the Parkland Institute of Aviation, Ford ASSET program, and the Midwest Center for Precision Agriculture. Proximity to and collaboration with the University of Illinois at Urbana-Champaign ensures that the AMTA will continually have access to the innovations and technology that will shape the future of manufacturing."
Laura Frerichs, Executive Director of the University of Illinois Research Park says she agrees that locating the Advanced Manufacturing Training Academy in Champaign-Urbana would provide a strategic advantage to scaling new companies stemming from the latest research and development taking place at the University.
"One of the challenges of scaling a research and development startup company is the transition from prototype to scalable product," said Frerichs. "While the University of Illinois Urbana-Champaign has technologists to invent disruptive and innovative products, its spinout companies need makers to build them. This academy will provide startups with a workforce that can replicate products with quality standards and customer satisfaction in mind, using advanced techniques such as increased automation. The Advanced Manufacturing Training Academy project will fill a critical gap in our community and allow our companies to scale and grow right here in Illinois."
Building the Workforce Pipeline Through Awareness
Another central focus of the AMTA will be cultivating a pipeline of students to meet the expanding high-tech workforce demands in Central Illinois. As part of the AMTA, an advanced manufacturing "maker space" will be developed as a vital outreach tool to engage K-12 students and promote advanced manufacturing career pathways.
Parkland's long-standing partnership with Education for Employment (EFE) System #330 and regional school districts will enable collaborative recruitment efforts.
The college will also build on the strong network of community partnerships and recruitment activities developed through the college's Support for Workforce Training (SWFT) program funded by the Illinois Workforce Equity Initiative (WEI) grant to reach underrepresented populations.
Whether or not the facility project is funded, Ramage says the college is committed to addressing the workforce pipeline.
"We are committed to continuing to serve manufacturers and help young people understand the rewarding, high-tech careers in manufacturing that exist locally and regionally," said Ramage. "We don't want individuals to miss out on the opportunities to pursue their goals and support their families because there is a lack of awareness of what it means to work in manufacturing."
Meeting the Needs of Industry
The college will utilize a flexible training model to meet the needs of working students and employers, allowing them to access advanced training without the need to relocate. Ramage says that collaboration with the other community colleges in the region will be key and that the model opens opportunities for highly customized training and upskilling for the existing workforce as well as new students.
In order to design a comprehensive academy model that meets the needs of manufacturers, Parkland turned to local employers like Litania Sports Group to understand their needs for training as well as an expanded workforce pipeline.
"The prospect of having a Manufacturing Training Academy in our community is an investment in our regional workforce and a stabilizer for manufacturers in the area," said Mary McGrew, VP of Human Resources at Litania Sports Group. "We struggle to find qualified workers to hold full-time jobs. We can send existing employees to the AMTA for skills enhancement to meet our changing technology. We can also work with the program to develop talent for students who want to start their career sooner, and less costly, than a four-year degree will allow. East central Illinois is home to some impressive manufacturing companies and the AMTA is a resource that can keep these companies competitive on a national level well into the future."
The lessons learned from these focused conversations with employers provided some forecasting on future shifts in the industry and how workforce training will need to rise to meet that challenge.
"Manufacturing is a primary economic driver that requires responsive educational support," said Dr. Justin Arnold, Director of Workforce Development for the Champaign County Regional Planning Commission. "Parkland's AMTA proposed project will ensure the workforce is ready for the jobs of today and tomorrow. Manufacturing has radically transformed over the past generation. We need Parkland's AMTA to help employers train our workforce in automation, coding, robotics, and other advanced skills."
The placement of the AMTA at Parkland College will also have a broader impact on the regional economy. "The proposed Advanced Manufacturing Training Academy (AMTA) at Parkland College will expand opportunities for short- and long-term skills training, boost retention of manufacturers in our region, and attract more investment to Illinois," said Carly McCrory-McKay, Executive Director of the Champaign County Economic Development Corporation.
"Focused on meeting the emerging training and workforce demands of our area manufacturers, the academy will leverage the strong assets of the Champaign County region to grow the manufacturing talent pipeline, provide hands-on training in advanced skills, and assist manufacturers from across the region in scaling emerging technologies. We look forward to working with Parkland College and workforce development partners across the state of Illinois to encourage more people to explore the possibilities of modern manufacturing, gain the skills necessary for careers in the 21st century, and retrain workers impacted by the COVID-19 pandemic."
State-of-the-Art Training Facility
If awarded, the Parkland Manufacturing Training Academy would be built as an expansion of the Parkhill Applied Technology Center, located on the northwest corner of the college's campus. The Parkhill Applied Technology Center currently houses the college's manufacturing and automotive programs, including an existing American Welding Society (AWS) Accredited Test Facility welding lab.
The 10,000 square foot AMTA, designed in collaboration with Urbana-based firm IGW Architecture, will include:
a robotics/programmable logic controllers (PLCs) lab outfitted with the latest technology and equipment
new tool and die training program and dedicated lab
two demonstration labs for both academic and community/youth programming, including the manufacturing "maker space"
newly equipped CNC machining lab to support advanced skills training
newly equipped CAD/CAM classroom
The college should learn later this spring whether it is awarded the grant and whether the facility project will move forward.
Link to press release: https://www.parkland.edu/Main/About-Parkland/Newsroom/Parkland-News/ArtMID/1187/ArticleID/782?fbclid=IwAR1_VufzIHtbRz-Pt8uLkbtlKxF8g6DaxGbCNWvvKOPDOgb2HejQ35zuoxM
Press:
Parkland College would like to be a manufacturing training center site, Smile Politely
College submits bid in hopes to build Manufacturing Training Academy, WCIA 3 News
Parkland submits bid for $7.5 million manufacturing academy, The News-Gazette