Robert Scoble (Scobleizer) Visits Champaign-Urbana
As part of the You're Welcome CU campaign, we were thrilled to host Robert Scoble "Scobleizer" in Champaign-Urbana.
Robert Scoble is a tech influencer and vlogger. He travels the world looking for what's happening on the bleedng edge of technology. He's interviewed thousands of executives and technology innovators and reports what he learns in books, on YouTube, and many social media sites where he's followed by millions of people.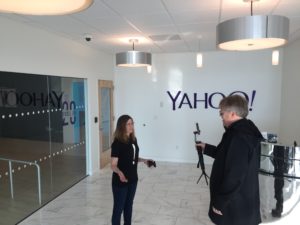 He's been named by Inc. as a "Top 5 Tech Power Player You Need to Know" (http://www.inc.com/john-rampton/30-power-players-in-tech-you-need-to-know.html) & he's one of the top personalities most followed by the NYSE-listed companies on Twitter (above Oprah!, see full list: http://www.burson-marsteller.com/bm-blog/twitter-accounts-most-followed-by-the-nyse-listed-companies/).
Videos from his visit to Champaign-Urbana:
– Engineering at Illinois: https://www.facebook.com/RobertScoble/videos/vb.501319654/10153852561554655/?type=2
– National Center for Supercomputing Applications – NCSA: https://www.facebook.com/RobertScoble/videos/10153852335334655/
– Pixo: https://www.facebook.com/RobertScoble/videos/10153852718869655/
– Volition: https://www.facebook.com/RobertScoble/videos/10153850811974655/
– University of Illinois Research Park, Part 1: https://www.facebook.com/RobertScoble/videos/10153852061749655/
– University of Illinois Research Park, Part 2: https://www.facebook.com/RobertScoble/videos/10153852130939655/
– Yahoo: https://www.facebook.com/RobertScoble/videos/10153852183979655/
– Wolfram: https://www.facebook.com/RobertScoble/videos/10153852393374655/
– VR Lab (Steve LaValle): https://www.facebook.com/RobertScoble/videos/10153852625789655/
– Frasca International, Inc.: https://www.facebook.com/RobertScoble/videos/10153852795609655/
– John Deere: https://www.facebook.com/RobertScoble/videos/10153852305869655/
– Agrible: https://www.facebook.com/RobertScoble/videos/10153852241604655/
His recap of Champaign-Urbana – Here's how small-town America is primed to beat Silicon Valley in innovation: https://medium.com/@scobleizer/here-s-how-small-town-america-is-primed-to-beat-silicon-valley-in-innovation-3923049865ed#.ktug4ag8z
Photos from Scobleizer's visit: https://www.facebook.com/media/set/?set=a.1028521297224132.1073741829.767321023344162&type=1&l=8ab12e9252