You're Welcome CU Reaches New Heights
The top of Illinois American Water's new tower was raised this morning – and it features a familiar look, the logo of You're Welcome CU. The structure, located near the intersection of I-72 and I-57 in Champaign, is set to be completed this August.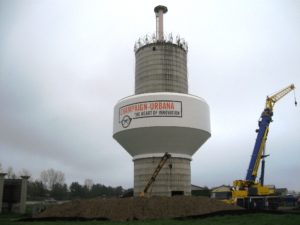 The 1 million gallon storage tank will be providing water storage for the west side of town, a growth area for Champaign. The total project cost is $3 million.
Watch the video & see more photos.