National Manufacturing Day – BRG Sports Tour
To celebrate National Manufacturing Day, we toured BRG Sports in Rantoul this morning with our Board members & the Illinois Department of Commerce & Economic Opportunity. Some fun facts about the Rantoul facility:
> Over 4.3 million helmets are produced each year – the first "Made in the USA" helmet rolled out in June 2014.
> The building is LEED designed – 813,126 sf building footprint.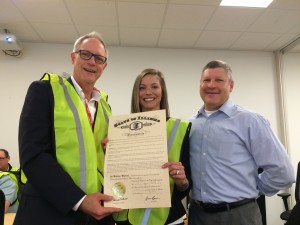 > The Rantoul facility is the Global Distribution, Transportation and Logistics base for BRG Sports.
> Current employee headcount is 445.
To learn about other products/innovation Made in Champaign County, click here.
About BRG Sports:
BRG Sports is a leading designer, developer and marketer of branded sports equipment, protective products and related accessories. The company markets and licenses products under well-known brands such as Bell, Riddell, Giro, Blackburn, Raskullz, Krash! and BULT. Their products incorporate leading technology and designs, and are used by professional athletes and sports enthusiasts alike. They are headquartered in Scotts Valley, California and have 27 facilities worldwide including their North American distribution hub in Rantoul, Illinois.
About National Manufacturing Day:
MFG DAY addresses common misperceptions about manufacturing by giving manufacturers an opportunity to open their doors and show, in a coordinated effort, what manufacturing is — and what it isn't. By working together during and after MFG DAY, manufacturers will begin to address the skilled labor shortage they face, connect with future generations, take charge of the public image of manufacturing, and ensure the ongoing prosperity of the whole industry.